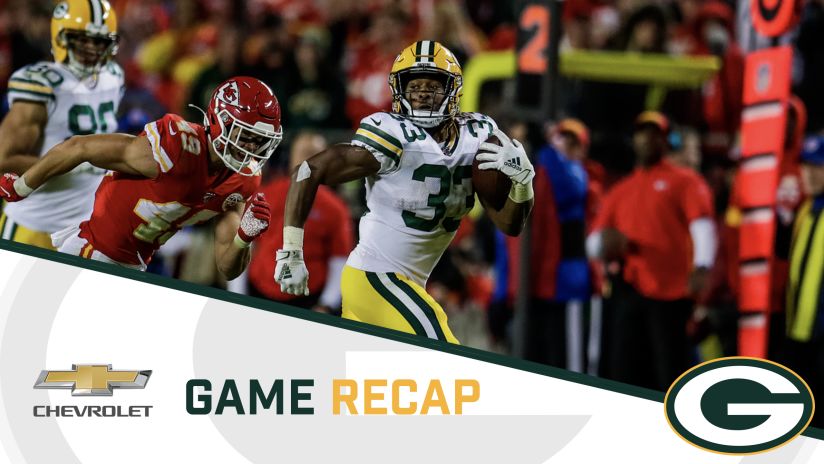 Evan Siegle, packers.com
RB Aaron Jones
KANSAS CITY – This one had a little bit of everything.
A monster game from running back Aaron Jones, a miracle-like touchdown pass from Aaron Rodgers, a crucial turnover by the defense, and a grunt-work drive to finish it off.
It all added up to a 31-24 victory for the Packers over the Chiefs on Sunday night at Arrowhead Stadium to get Green Bay to 7-1.
"I think we've found a way to win," Rodgers said of the 2019 Packers at the midway point of the season. "It hasn't been the prettiest the entire time. There's been some pretty moments, though."
One of those broke a 24-all tie in the fourth quarter, just two plays after the Chiefs had evened the score. A quick flip from Rodgers to Jones in the flat ruptured with some key blocks into a 67-yard touchdown that proved to be the game-winner with 8:02 left.
It turned out to be the last momentum shift in a game that had plenty, with the Packers jumping out to a 14-0 lead, falling behind 17-14 by halftime, and both teams going back and forth from there.
"That's the NFL and that's playing in a tough environment," Rodgers said. "You know there's going to be big momentum swings and luckily we had a good answer.
"We weren't expecting a touchdown on that play … but Jonesey is tough in open space."
The play was the biggest highlight of many for Jones, who piled up 226 yards from scrimmage – 159 receiving on seven catches (on eight targets) and 67 rushing on 13 carries.
Jones also recorded a 50-yard completion in the first quarter that would have been a 60-yard TD had he not stepped out of bounds on the 10.
"He was outstanding. He's an explosive weapon," Head Coach Matt LaFleur said of Green Bay's third-year running back, who now has 11 total touchdowns through eight games and 821 yards from scrimmage. "You don't find too many running backs who can go out and produce like that.
"You don't see too many running backs you and put on the outside and run a slant-and-go. He's dynamic – as a runner, as a receiver, as a pass protector. I think he's a complete back."
His backfield partner Jamaal Williams is no slouch either, as the two backs combined for four touchdowns in the Packers' fourth straight win without top receiver Davante Adams.
Williams' second touchdown of the game, which broke a 17-all tie early in the fourth quarter, was a jaw-dropper as he ran across the back of the end zone and dove to catch a Rodgers throw that flew over tight end Jimmy Graham's head.
"I saw Jimmy, and I saw somebody wrapping behind him," Rodgers said. "I was actually throwing a ball I thought maybe Jimmy could go up and get if he wanted to, and if he didn't, the guy behind him could get it. Luckily the guy behind him got it."
It appeared at first that Rodgers, under pressure on third down from the 3-yard line, was just trying to throw the ball away. At least that's what LaFleur thought.
"I sure did," the head coach confessed. "That was one of the best if not the best pass I've ever seen live in person. That was incredible. I couldn't believe it.
Packers
Chiefs
---
Share this article!
<!—- ShareThis BEGIN -—> <!—- ShareThis END -—>
Others are also reading